Cullet glass rolling machine KWM-C
The Cullet-Glass rolling machine KWM-C consists of:
Rolling machine
Transport belt with fritting equipment
Crusher unit
This set up is used for foam glass production & can be used for several other products, which require cullets as a preliminary product.
The line serves for continuous cullet glass production. High efficiency is guaranteed by the sturdy construction and the smooth, precise operation.
We realize outputs from 30 to 120 tpd. Glass ribbon widths from 600 – 2.400 mm are available. A wide range of adjustment possibilities enables the adaptation of the cullet glass rolling machine to various feeder conditions.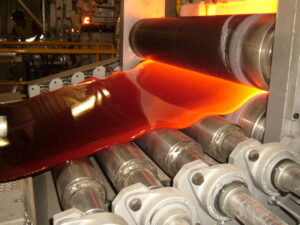 Technical data:
| | |
| --- | --- |
| Glass product: | Cullet glass |
| Output production line: | 30-120 tpd |
| Gross ribbon width: | 600-2400 mm |
| Diameter of main rollers: | 200-240 mm |
| Glass thickness: | 3,0-8,0 mm |
| Rolling velocity: | 0,4-10 m/ |
| Pressure unit: | 1,2-2,2 tons per side |
| Drive units: | AC-motors with encoder and reduction gear |
Electric control and control unit
SIEMENS S7/300 control unit
SEW frequency controller
SIEMENS touch Color-Comfort-Panel
Stand-alone stand with three Emergency off buttons
Various control opportunities
Variable speed control
Transport speed adaptions collectively or individuell
Speed adaption for different main roller diameters
Memory for up to 50 different glassprocessing parameters.
Motorized or manual pressure unit for stable glass thickness production
Additional features
Central lubrication system – for all roller bearings
Carriage drive to drive the machine in working position
Measurement technology
Process data acquisition (Option)